17 Aug

Lawsuit filed against Laurens County sheriff over jail death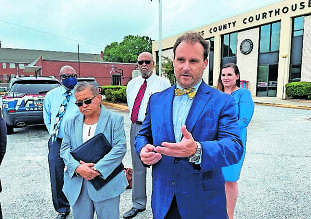 Original Source: Post & Courier
A lawsuit was filed Aug. 15 against Laurens County Sheriff Don Reynolds in connection with the death of Jarvis Evans, who was found unresponsive in a holding cell after being restrained and Tasered.
Mark Peper, of Charleston-based The Peper Law Firm, filed the lawsuit with the 8th Judicial Circuit on behalf of Evans' mother, Catherine Cullen Evans. Rosalyn Henderson-Myers is also representing the Evans family in the case.
Peper said a second lawsuit would be filed against the deputies involved.
"We are going to hold them accountable," Peper said during a news conference Aug. 16. "We are going to hold them accountable for tasing a restrained Black man, for taking him to jail when he should have gone to a hospital."
Laurens County sheriff's Office spokeswoman Courtney Snow told The Post and Courier on Aug. 17 that the Sheriff's Office had no comment on the lawsuit.
The July 30, 2021, death of Evans bears close similarities to an incident in Charleston County.
In May 2021, Jamal Sutherland, a 31-year-old Black man with mental illness, died in the county jail after he was pepper-sprayed, shocked with Tasers, and restrained. The county reached a $10 million settlement with Sutherland's family, who were also represented by Peper.
The lawsuit in Laurens County is based around a 911 call made by Evans and deputy bodycam footage inside the jail. A link to a compiled video was provided by The Peper Law Firm.
Evans, 40, called 911 on July 29, 2021, and said he was "afraid for his life because there were people with guns in his house." Evans' mother arrived at the scene and told the operator her son was mentally ill and possibly on drugs, according to the lawsuit.
Evans was not taken to the hospital by deputies. He was charged with breach of peace and resisting arrest, both misdemeanors, and taken to the R. Eugene Johnson Detention Center at 10:56 p.m.
The video, which is time-stamped, shows deputies held a struggling Evans by the neck, pinned him on the ground to switch restraints and put a spit mask on him.
"JDC deputies refused to contact and request appropriate medical intervention from Southern Health," the lawsuit claims. "JDC deputies lifted (Evans), who was already restrained behind the back by handcuffs, leg restraints and a spit mask, off the ground and into an emergency restraint chair to punish him."
A Taser was used at least three times on Evans while several deputies tried to restrain him in the chair, which can be seen and heard in the video. Evans was then wheeled into a holding cell.
A deputy later noticed Evans was unresponsive in the holding cell, according to the lawsuit. Laurens County Emergency Medical Services responded and transported Evans to the hospital, where he was pronounced dead at 2:59 a.m.
According to the lawsuit, Evans was taken directly to the hospital on two previous instances when deputies responded to his home — in December 2018 and January 2021.
Catherine Evans said on Aug. 16 her son should have received medical care and believed the Laurens County Sheriff's Office should be held responsible for her son's death.